X2 games has released First Touch Soccer 2020 meaning you can now download FTS 20 Apk Mod + data OBB for free on this page. All FTS 2020 apk information, requirements, installation guidelines and necessary files needed to successfully install the game on your device are available here.
FTS 20 is coming rather too early as we are still enjoying FTS 19 which is the 2019 version but developers who are extremely excited to create more modified versions of the game has decided to rush things by developing this FTS 20 Mod also known as FTS 2020 by some players.
Remember First Touch Games which is the original developers of First Touch Soccer games discontinued official development and distribution of the game in 2015 after the FTS 15 version was released. But since then, fans and developers globally has continued releasing modded versions of the game to keep the excitement high just as Winning Eleven addicts are doing with constant modifications.
First Touch Soccer 2020 (FTS 20 Mod) is an offline game with unlimited coins and hacked money which can be used to buy players in transfer windows, upgrade your home stadium, heal players with fatigue, buy kits and improve your team generally.
The game file size is just below 270mb but with great graphics. This makes it one of the best games Android users are looking out for. In fact, FTS 20 is similar to DLS 19 in many aspects including gameplay, size, graphics, modes and so on.
Now, talking about modes, FTS 20 apk supports multiplayer mode as well as single player mode.
FTS20 Apk Latest Version features new clubs, new leagues, new stadiums, new kits, new sounds, new players and super stars on latest transfers. In this game, C Ronaldo is doing his things at Juventus. Gonzalo Higuain is playing and scoring goals at Chelsea, Aubemeyoung is scoring goals at Arsenal, Kylian Mbappe is killing it at PSG. Trust me, you will definitely enjoy everything about this game by the time you have installed and played it.
So if you are looking for a football game unlocked with unlimited money and requires small file size to download, First Touch Soccer 2020 Mod Apk is for you.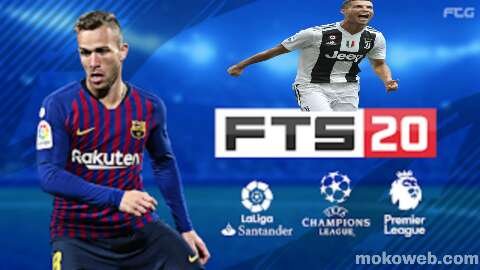 FEATURES OF FIRST TOUCH SOCCER 2020
This latest edition of first touch soccer 2020 features super star players like Christiano Ronaldo, Mo Salah, Lionel Messi, Harry Kane, Eden Hazard, Dybala, Paul Pogba, Sané, Mané, Ngolo Kante, Suarez, Bale, Lewandowski, Neymar, Higuain, John Stones, Lakazett, Kylian Mbappé, Aguero, Dembele, Sterling, Benerdo Silver, and more players.
Updated type of football with latest Adidas design on the round leather material.
There are new kits, unlimited coins, new stadiums, Latest transfers, new teams/clubs, new Jerseys, and new leagues
There is a new FTS logo in this 2020 edition.
All national teams which participated in 2018 world cup are all included in this years edition including Iceland Team, Brazil, Germany, Spain, Argentina England, Nigeria, France, Belgium, Egypt, Croatia and so on
Explore new tactics and team formation like the trendy 3-4-3, 3-5-2 and 4-3-3 setups.
Player reactions and simulation is improved
Button controls are supported with Hud Radar, game cursor and Analog-stick.
Improved graphics and overall gameplay plus other features that you will encounter while playing the game.
FTS 20 comes with new sound tracks and in-game music playing in background which can be controlled via settings.
Commentary is more accurate and real.
First Touch Soccer 2020 also features all UEFA Champions League and Europa league teams, clubs hosting countries.
Game graphics is better with all-new HD pitch, textures, simulations, mud, grass.
All Premier League Clubs in England including newly promoted clubs are all included in this years edition.
Game Information
Name: FTS 20 (First Touch Soccer 2020)
Modifications: Yes
Android Version: Android 4.0 +
Game Size: 270MB
Developers: X2 Games
Updated: February 15, 2019
Downloads: 40,000+
Game Download Password: mokoweb
Rating: 4.5
Game Mode: Offline
Multiplayer Mode: Yes
Price: Free
How To Install First Touch Soccer 2020 (FTS 20 Apk Mod) On Android
STEP 1
Download FTS 20 Apk Mod Here (First Touch Soccer 2020.
Password: mokoweb.
STEP 2
Extract game files you have downloaded using ES Explorer or ZArchiver app.
STEP 3
Locate First Touch Soccer 2020.Apk (FTS20.Apk) on your Android device after extraction and install it.
STEP 4
Now move the OBB file this path Storage >> Android >> OBB. If it doesn't play in your phone, move it to SDCard >> Android >> OBB
STEP 5
Finally, locate the installed APK on your phone app drawer to launch and play First Touch Soccer 2020 on your Android device.
That's all, you have now installed latest First Touch Soccer 2020 on your phone.
FTS 2020 GamePlay
You may watch the game play below
Final Thoughts
Ever since the original developers of FTS stopped developing the game officially, app modders has taken the task by themselves to mod the new versions we are playing today including FTS 16, FTS 17, FTS 18, FTS 19 and now FTS 20. So download FTS 20 Apk Mod today and enjoy the new game play.