HTTP Injector is a free tunneling tool that lets you unlock web pages, appear anonymous on the web as well as gain free access to the internet otherwise known as free browsing. However, the app is not very simple to setup and I'm aware that a lot of people are having difficulties configuring and using this wonderful tool. So I have listed latest free Payload sites for HTTP injector that works for so many mobile networks including MTN, SUN, Glo, Globe, 9Mobile, Cell C, TM, TNT, Airtel and lots more.
Previously on mokoweb.com, we discussed how to create HTTP injector ehi config files but some people requested I provide more free payload websites for creating ehi files or HPI files in HTTP Proxy.
To create a working ehi config, you are required to use a valid Payload URL/HOST sites from MTN, Globe, TM, Smart and TNT like m.facebook.com, www.google.com and so on. Just follow my instructions below to get started.
How to Find & Configure Working Payload
Follow this guidelines to Create Fast Server Payload for HTTP Injector Account.
1. Go to tcpvpn.com
2. Locate X-SGDO in MENU every hour it will open just wait for an exact time.
3. After creating an account use the HOST IP or NUMERIC IP for SSH IP in making http injector.
Generating Payload For Creating .ehi File
1. Slide left on the Injector you will find Payload Generator tap it.
2. Under URL/HOST: use free.facebook.com/rdr
Check Extra Header:
Online Host, User Agent, Keep Alive
Then, Generate Payload
3. Remote proxy IP(203.177.42.214:8080) then Start as you can see from the screenshot below.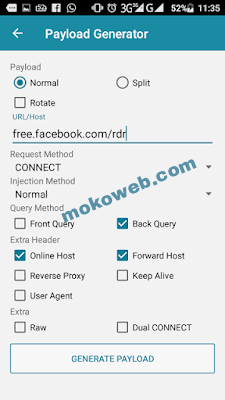 4. SSH IP: (server you created in XSGDO)
SSH PORT: 22
User and pass in creating account in XSGDO
5. CHECK GOOGLE DNS
6. START
Alternative Methods
From your chrome browser open TCPVPN.com to create a premium open VPN and PPTP VPN account username and password. You can also make SSH settings from the sites below;
www.fastssh.com
www.sshdropbear.com
www.mytunneling.com
Your country, IP, sever time and other information is automatically detected. For instance Asia countries will get to select the Asia option to create a .EHI config file for countries like Singapore, Japan, Thailand, Honkong etc. You can choose other country servers including Nigeria and South Africa if you wish.
Now that you've selected you country, the next step is to select the server that you want, download OpenVPN config(.ovpn) then create a username and password.
Also note that if you are using pptp vpn server you should just create a username and password only. To make an account is very easy, simply enter your username and password, then verify the captcha.
After creation, a username, password, along with an auto-generated IP and host will be displayed. Accounts will expire 5 days after creation.
Goto Payload Generator and insert URL/Host settings.(h.facebook.com)
Query Method: back query > Request Method: Post > Extra Header: Online Host, Keep alive, Forward Host> Payload: Split > Generate Payload.
SSH Settings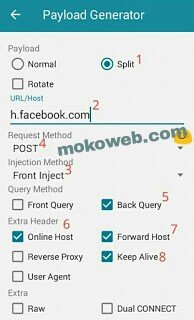 Fixing Payload Not Working
Apply the following solution methods if your payload refused to connect.
1. Change your injection method to 'Front inject' instead of 'Normal'.
2. Check your SSH Account details if it's correct. See how to create SSH account here.
3. If you are receiving STATUS 403, always check the config before connecting by going to TOOLS > HOST CHECKER.
However, if you are totally new to HTTP Injector and how it's used, I will advise you to read how to create HTTP Injector Config file.
If you need more free payload websites, I have more than enough for you listed alongside the supported mobile networks. These sites has been generated exclusively for you and most of them are still working as I write this post.
List Of Free Payload Sites For HTTP Injector & Supported Networks
Payload for Globe and TM Switch
developer.globe.com.ph
business.globe.com.ph
clients3.google.com
app.google.com
Other payloads for Globe/TM
directory.google.com
asia.google.com
d.google.com
tv.google.com
archive.google.com
landing.google.com
download.google.com
www4.google.com
d.google.com
w.google.com
ap.google.com
wave2.google.com
labs1.google.com
email.google.com
pack.google.com
locale.google.com
relay.google.com
europe.google.com
web.google.com
catalog.google.com
doodles.google.com
wave1.google.com
asia2.google.com
sms.google.com
opt.google.com
upload.google.com
desktop5.google.com
desktop2.google.com
desktop3.google.com
desktop4.google.com
games.google.com
labs2.google.com
desktop1.google.com
downloads.google.com
api.google.com
america.google.com
ads1.google.com
events.google.com
www5.google.com
mail2.google.com
sandbox.google.com
Payload for Globe/TM No Load (Under Observation)
mp3do.com
wasanga100porciento.com
fastcloud.ge
Free Payload Sites for TNT
tnt.softether.tk
using TP10 to 3545 + T2 to 4545
help.twitter.com
support.twitter.com
using SNAP10 to 4545
support.snapchat.com
app.snapchat.com
using IG10 to 4545
m.instagram.com
logger.instagram.com
platforms.instagram.com
scontent-a.cdninstagram.com
scontent.cdninstagram.com
uplo