You will find the direct download link for WE 19 Apk + OBB Data, a mod version of popular Winning Eleven Games developed by Konami. This modified version comes a lot of improvements and more addictive this time around because of recent features that are now added.
Winning Eleven 2019 Apk succeeds its 2018 version although I'm still playing and enjoying the later on my Android smartphone now. Winning Eleven 2019 is free to play, download and install on Android devices and enjoy the new game play and interface.
Winning Eleven 2019 (WE 19 Apk) is an offline game but you need at least 350mb of data to download the game from this site MokoWeb, after that it's an everlasting cruising with free game playing on your Android phone. Meanwhile, you may be asked to purchase in app stuffs but it's left to you to complete it or leave it. You have absolutely nothing to loose.
You may wish to connect with your friends and engage in multiplayer mode on WE 2019 apk football if you are my type that likes playing against my friends on a video game.
While WE 19 apk is not the best of the football games on Android devices in the year 2019, it presents gamers with classic and decent game play with low system requirements. In other words, the game is supported on many Android devices from brands such as Tecno, Infinix, Itel, Gionee, Samsung, LG, Leagoo, Meizu, Xiaomi, Huawei, Oukitel, HTC, Sony, Nokia, and lots more.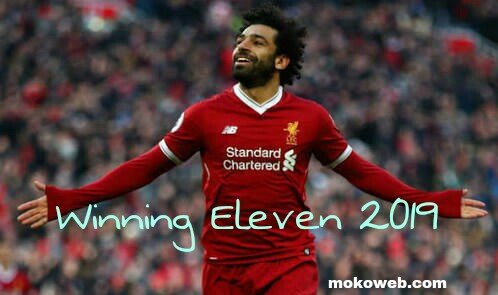 FEATURES OF WINNING ELEVEN 2019 (WE 19 APK MOD)
Winning eleven 2019 (WE 19) features superstars like Neymar, Ronaldo, Messi, Eden Hazard, Mohamed Salah, Kylian Mbappe, Kante, Pogba, Harry Kane and many more players who graces the game with their cheats and individual tricks.
WE 2019 APK also features legendary stars like Beckham, Drogba, Tevez, Zidane, Ronaldo Delima and many others for those of us that still want to enjoy a glimpse of our favorite legends of the game. These players were among the superstars that lighted up the prestigious winning eleven 2012 that resulted to these modified versions after Konami officially stopped releasing Winning Eleven games.
In this version, Players' skills can be increased as matches and trophies are won
Referees reactions now realistic
Updated Teams kits, jerseys and boots
UI is improved
There is a new caution for repeated offenses.
New leagues and teams are included
UEFA Champions league is now LIVE in winning eleven 2019 full version as well as world cup tournament
These and many more features you will enjoy from the game.
WE 19 APK APP INFORMATION
Title: Winning Eleven 2019 mod (WE19)
Latest Version: WE 2019 App
Supported Android Version: Android 3.0 or higher
Game Size: 290 MB
Game Password: www.gapmod.com
Game Rating: 3/5
HOW TO DOWNLOAD WINNING ELEVEN 2019
First off, Download WE 19 APk + Data Obb File HERE
After that, install WE 19 Mod and Extract Winning eleven 2019 apk files ( use any file explorer of your choice)
Next move the OBB File to Android > Obb and paste
Lastly, install the Android Apk and locate it on your phone app menu. Tap on it to launch the game and play.
Remember you can pick a team, build your own team, register players, customize your team Jerseys, build players and many more.
Other Versions Of This Game
Enjoy your gameplay.